Oncology Treatment
According to the World Health Organization cancer is the second leading cause of death globally, accounting for an estimated 9.6 million deaths, or one in six deaths, in 2018.

But luckily cancer mortality can be reduced if cases are detected and treated early. There are 2 components of early detection: early diagnosis and screening.

Early diagnosis consists of 3 steps that must be integrated and provided in a timely manner:
awareness and accessing care
clinical evaluation, diagnosis and staging
access to treatment.
Examples of screening methods are:
HPV testing for cervical cancer;
mammography screening for breast cancer in settings with strong or relatively strong health systems;
PSA Test for prostate cancer;
etc.
Here in Ukraine we are providing full check up for cancer early detection and cancer treatment with the latest technics and methods.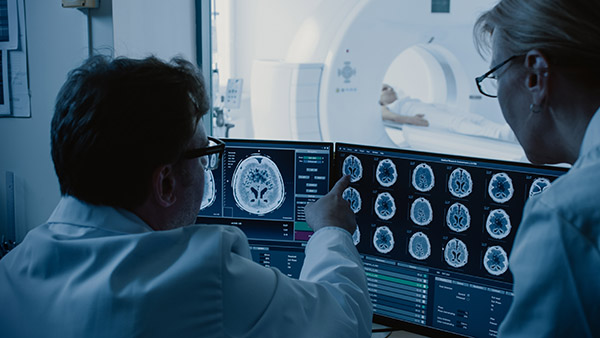 We have the best equipment, a multidisciplinary team and the ability to conduct a full cycle of treatment in one clinic.
World's best equipment for succsessful treatment

The TrueBeam STx linear accelerator was created by the American company Varian. It is one of the best tools in the world designed for radiotherapy and radiosurgery. It allows doctors to:


• reach "targets" of hard-to-reach localization,
• treat tumors of complex shape,
• minimize or avoid damage to healthy organs.


TrueBeam STx allows to implement all existing methods of assessment of radiotheraphy: IGRT, IMRT, stereotactic radiosurgery, as well as the method of RapidArc. RapidArc can significantly improve the quality of the dose, minimize effect on surrounding healthy tissues and reduce the time of treatment.


Delivery of a dose with this method is from 4 to 8 times faster, than while treatment on other devices. 
The linear accelerator visualization system tracks the position of the tumor during the session and instantly calibrates the system. Dose delivery accuracy is carefully monitored thanks to multi-petal collimator, which can accurately reproduce the shape of the tumor. The maximum deviation of dose delivery with this system is ~1 mm.
Using this accelerator, as well as accurate diagnostic devices, we are able to select a treatment plan that would take into account all individual characteristics while modulating beam form and dose calculation.


Each treatment plan undergoes quality control. We check all treatment plans according to the international standards for dose compliance check and other parameters. 


Our team complies with European and American protocols: ESTRO (European Society for Radiotherapy and Oncology), ESMO (European Society of Medical Oncology) and NCCN (National Comprehensive Cancer Network). 
Research in the field of radiology and guidelines developed by leading medical associations are the main source of information for the Radiation Therapy Center. The equipment of our clinic offers a variety of treatment methods and our specialists are constantly improving their skills and knowledge base in order to be able to help every patient no matter how complex is the case.


In addition to radiation surgery, our partner Clinic also offers alternative methods of cancer treatment: chemotherapy and oncosurgery. 


We have the best equipment, a multidisciplinary team and the ability to conduct a full cycle of treatment in one clinic.